This report delivered by HumaneAI partners summarizes the ideas and considerations that have emerged in the course of considering various ways to sustain and develop a large-scale Humane AI community in the absence of a Flagship in Europe.
They are intended as recommendations for the funding bodies of the Union with respect to efficient implementation of large-scale long-term research initiatives in AI and similar fields. The structure includes:
Micro-projects: funding a large community with limited funds
Case-by-case involvement of outside players
Cooperation with Industry
Industrial Co-Sponsorship of Internal Calls
Industrial Participation in Microprojects
Download the report here or scroll down to read
Recommendation for Horizon Europe
The use of internal calls to maintain an agile agenda and make sure that rapid advances on the field do not make the project plan obsolete
The notion of microprojects as am novel instruments that fosters very close cooperation and allows meaningful, tangible results to be achieved even in large networks with comparatively little available per partner resources
The inclusion of external groups through internal call mechanism (including microprojects), rather than through open calls.
. The possibility of internal calls being co-sponsored by industry, both from within and from outside the consortium.
All of the above require adjustments to the current EU program structure with respect to the proposal templates/structure requirements, the legal conditions and the financial conditions.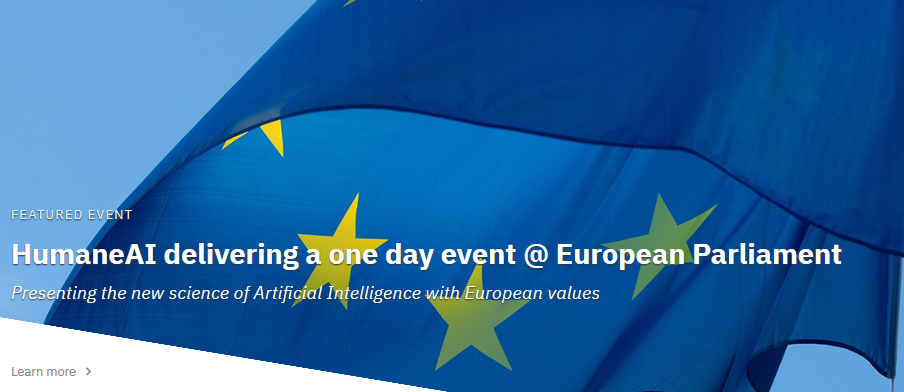 Challenge Based Research
We recommend that Humane AI employ a challenge-based research approach for developing the enabling technologies required for its vision.  The consortium should maintain a continually evolving research road map that can be used to provide descriptions, specifications and examples for each required ability and research problem.
For each ability, the community should identify and define technological challenges along with test data sets and measurable performance indicators to measure success.
The research community should then be challenged to explore alternative technological approaches that satisfy the required ability. This is a well established scientific approach that is aligned with scientific practices in many other fields that combine technology development with scientific understanding.
Collaborative Microprojects
To maximize impact within the available resources, HumanE AI should focus on critical gaps in knowledge and technology at the interstice between the competences of the involved centers of excellence. This can be accomplished by organizing the research activities around the concept of "collaborative micro-projects."
Collaborative Micro-projects would involve a small group of researchers from several centers of excellence working together at a single location for a limited period of time  to address a specific problem or provide a specific tool or dataset.
HumanE AI can use micro-projects to go beyond networking, capacity building, and dissemination activities to implement key components of the proposed research agenda, organised dynamically within each workpackage.
Micro-projects should be required to produce a tangible result, such as a scientific publication, dataset, toolbox, demonstrator, or integration of a toolbox into the AI4EU.
Each WP could have dedicated funds for micro-projects, which could be distributed through a lightweight internal proposal system based on quality and contribution to the WP agenda. Micro-projects could also be encouraged between WPs and could have the possibility of including external partners through appropriate mechanisms.