HumaneAI partners  generate a Network for Artificial Intelligence, Knowledge and SUStainable development – a nexus and central meeting point between AI and SDGs
The International Research Institute on AI under the auspices of UNESCO (IRCAI) at Jpzef Stefan Institute which is a core HumaneAI partner, officially launched its Network of Excellence NAIXUS; a multi-stakeholder initiative aimed at bridging the gap between AI and sustainable development. The event was held online as part of the STI 2022 Forum on May 4 and was hosted by IRCAI and the Permanent Mission of Slovenia to the UN in New York and co-sponsored by the Permanent Mission of Japan to the UN and the Permanent Mission of South Africa to the UN.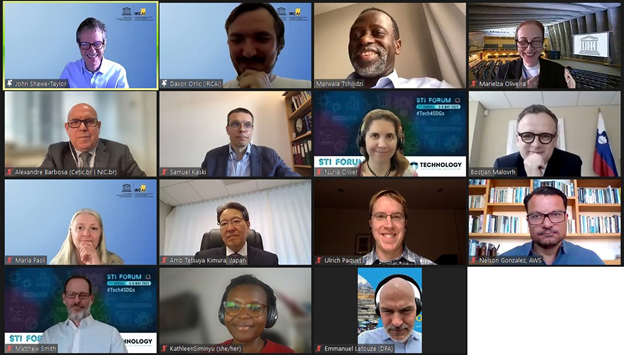 The main part of the agenda consisted of short presentations outlining the history, purpose, goals, composition, activities, programmes, and technology focus of the network with supporters and initial partners of the initiative to build this global network of centres of excellence for sustainable development.
Speakers at the event included John Shawe-Taylor, IRCAI Director and HumaneAI Network Scientific Coordinator; Paul Lukowitz, HumaneAI Network Coordinator; Davor Orlic, IRCAI Chief Operations Officer; Tshilidzi Marwala, Vice Chancellor and Principal, University of Johannesburg; Marielza Oliveira, Director of Partnerships and Operational Programme Monitoring, Communications and Information Sector, UNESCO, Alexandre F. Barbosa, Director Cetic, Samuel Kaski, Aalto University, ELISE Network Coordinator, Nuria Oliver, ELLIS Unit Alicante Foundation, Ambassador Boštjan Malovrh, Permanent Representative of Slovenia to the UN in New York, Maria Fasli, UNESCO Chair in Analytics and Data Science, Executive Dean, Faculty of Science and Health at University of Essex, Ambassador Tetsuya Kimura, Permanent Representative of Japan to the UN, Ulrich Paquet, Deep Learning Indaba, DeepMind, Nelson González, Head Global Impact Computing, AWS, Matthew Smith, Senior Program Specialist, IDRC, Kathleen Siminyu, Machine Learning Fellow, Mozilla Foundation, and Emmanuel Letouzé, Director Data-Pop Alliance.
The recording of the event is available here: https://www.youtube.com/watch?v=kSca6amLeyU
The launch of this multistakeholder initiative was broadcast to the 2022 STI Forum audience, streamed live on social media, and followed directly on Zoom by 120 attendees.