As part of the HumanE AI vision an Innovation strategy was also born. In order to foster human-centric AI and maintain Europe as a powerhouse in the key technology shaping the global economy, it is crucial to maximize the socio-economic impact of the research roadmap of the consortium.
This is realized by making the research agenda most relevant to solving current challenges in European society and economy. To generate societal impact clearly perceptible to European citizens, fostering application driven innovation is key. Therefore, the aim is to support the transformation from the results of the research agenda to start-up creation and innovation in existing businesses, organisations and industry via dedicated mechanisms.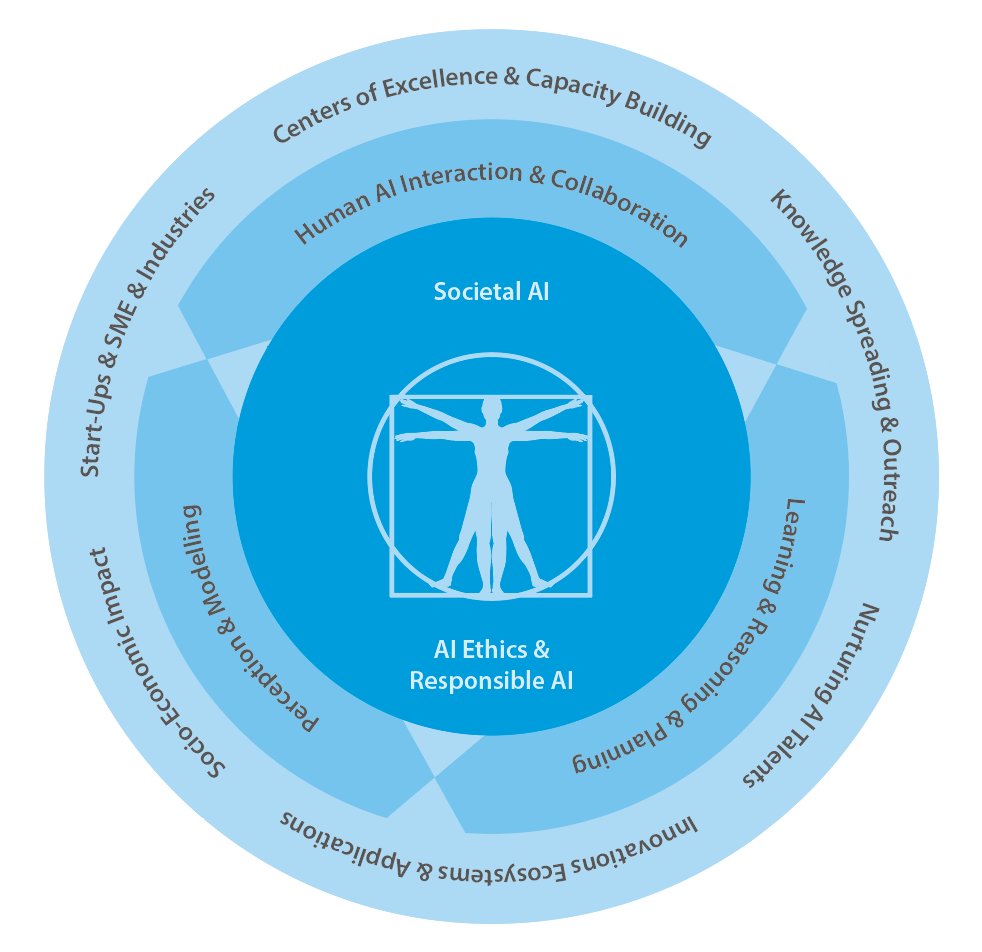 Innovation Funnel
Along the innovation funnel, many important steps from Research to Business need to be taken. These are ranging from Inspiration to Problem Solution Fit, Team, Business Idea and Model, Business Plan, Scaling Strategy, Partners and Funding. The researchers should be met, where they stand and can be recommended support structures to help them make the next step.
Innovation Strategy – Challenges at the European Level
One of discussed challenges identified by the participant is that publicly funded money results in a lack of agility due to a less competitive situation. A related issue is the intellectual property (IP) of research belonging to the universities and the little incentives for researcher to found their own startup based on their research.
A general acceptance of failure in the European culture of entrepreneurs as well as a clear transparency of the innovation ecosystem and its possibilities and easy access to funding must be achieved.
For large industry in Europe, the lack of corporate agility, qualified talents in AI and interdisciplinary teams is a big challenge. Furthermore, many people, especially employees in large organisations still fear artificial intelligence and see it as a threat. This is due to the lack of knowledge about AI and its many possibilities.
Moreover, many AI applications are still prototypes, and there is a lack of funding to develop stable and scalable products. This is also connected to regulatory uncertainties. Especially in safety-critical systems, regulation for AI must be clarified to foster successful innovation.
For all players, the access to high-quality labelled data, especially industry data is a big challenge and needs to be assured. Generally, more interdisciplinary cooperation and exchange between art, culture and the public on the one hand as well as industry and research on the other hand is important in the future and can assure an early on connection between the technology push and the market pull. Real-life problems must be connected to research early on to lead to successful innovation.
For the dissemination of AI innovation in Europe, networking, cooperation and communication of all stakeholders across the European continent is essential. Increased use of the intercultural diversity in Europe can also help to achieve these objectives.
For these jointly identified problems and gaps in the innovation funnel new structures, partnerships and programs must be developed to create an exhaustive innovation ecosystem.